outreach
14 February 2021
Sanford Radio: an independent radio show hosted and carefully curated by Sanford members. We've been going since the start of the pandemic and we're now looking to share this with the wider community.
Join us on a Sunday afternoon and listen to the live show on a Sunday afternoon.
You can also access previous shows on our MixCloud.
We would also love you to get involved and submit your own show! To do so, please get in touch with the radio team
Keep an eye on this page and follow us on Twitter for future radio show dates and reminders of how you can get involved.
Happy listening and happy producing!
Next up/ most recent: Sanford Weekend Radio Show celebrating the Spring Equinox! 20th - 21st March 2021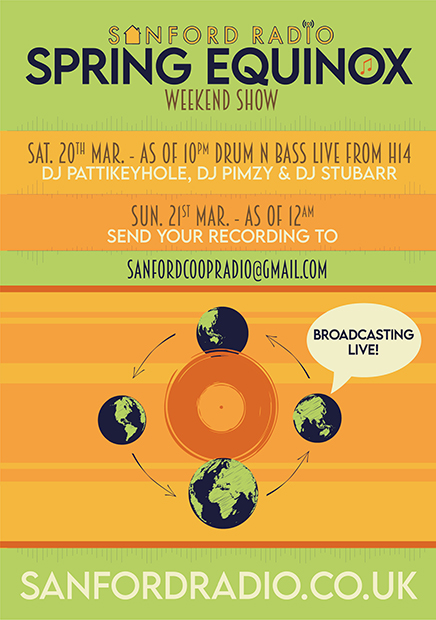 Gardening Days: Every month or so, Sanfordians come together over the course of a weekend to shape up the gardens. We have loads of food producing activities and we're always looking for ways to share our knowledge and upskill our local community in growing their own food.
COVID-19 permitting, we would love to invite you to get involved in our next gardening day to get your hands dirty and learn something new. Stay tuned and follow us on Twitter to make the most of these opportunities. 
Sanford members?! Is there anything here that is missing? If so, please fill out this form to let us know what else can be added to this page.
If you're really keen and don't want to miss out on any of these opportunities, please get in touch via our contact page to let us know and we will make sure to email you with as much notice as possible to invite you to get involved.