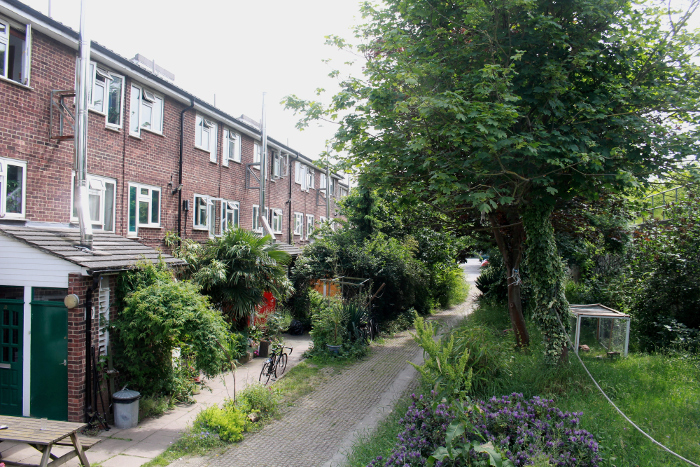 The Street
Sanford Walk starts where the Overground splits into two branches – one going down to New Cross and the other to New Cross Gate. Sanford Walk can be seen directly from the Overground! The street belongs to Sanford Housing Co-op and is relatively isolated from the rest of the neighbourhood in a sense that there is no public walk-through area. We always welcome guests who want to visit our co-op.
The street is a very green environment: we have a booming organic vegetable garden, a system of ponds built by the members of the co-op, tall trees, bushes and lawns. A large part of the original car park has been turned into yet more garden space, and an indoor communal area for meetings. We are currently working on a community centre development. The co-op has commissioned architects to come up with visions for reinventing shared space, and the members selected architectural practice devising details of the plan. You can see some of the presentations on our video channel.
Our members are very keen cyclists and enjoy the benefits of a fully-equipped bicycle workshop, funded thanks to a grant from TfL. We also boast a spectacular bicycle storage area, incorporating a performance stage and a roof garden.
The Houses and Flats
There are 14 houses on Sanford Walk, all very similar in the way they are designed, but quite different in terms of people living in them.
Each house is occupied by between eight and ten tenants. At present, standard rent is approximately £65 a week, inclusive of bills and council tax.
Each member is allocated their own bedroom and shares a kitchen, living room and three toilets, one of which is equipped with a shower and another with a bath.
There is also a block of six self-contained flats on Sanford Walk. These include a bedroom, a kitchen and a bathroom.
The Gardens
We have the most beautiful gardens in the area thanks to a sustained effort of wonderful spirits!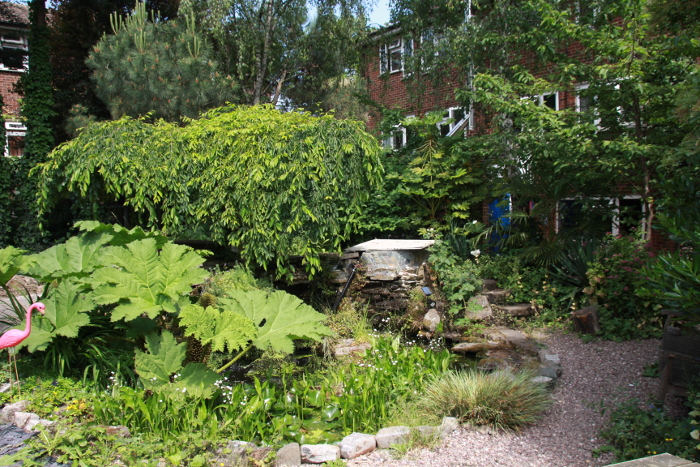 A History of Sanford by co-founder John Hands
John Hands is one of the founders of Sanford and several other housing co-operatives in London. He is the author of Housing Co-operatives, a seminal work about housing co-ops in Britain and abroad, and was Director of the Government's Co-operative Housing Agency and a member of the Working Group on Co-operatives, appointed by the Secretary of State for Industry.
As part of a Sanford Open Day on the 7th September 2013, Sanfordians and non-Sanfordians alike packed into House 0 to hear the enigmatic John Hands tell the story of the founding of Sanford in the 1970s. A brief transcript of his speech, which can be heard in full at the bottom of the page.
The year was 1968, and John and a handful of housing / student activists were seeking ways in which they could take back control over their own lives and avoid the isolation of the big city. Having examined the terrain, they founded Student Co-operative Dwellings (SCD), whose vision was to work together to create housing co-ops, designed and operated on a basis of mutual aid, not economic exploitation.
At the time, co-ops meant anything to anybody, and John wanted to know what worked and what didn't with regards to housing co-ops. He discovered that the co-ops that worked were those that followed the seven co-operative principles set out by the 19th Century Rochdale Society of Equitable Pioneers.
With an ethos of practical idealism, John and his colleagues set out to establish more housing co-ops, despite dauntingly unfavourable conditions:
The co-operative culture in the UK was basically non-existent.
There was no legislative framework for housing co-operatives.
The housing market was dominated by fuedal landlord-tenant relationships and individual ownership.
They had no funding.
There were no support organisations for housing co-operatives.
SCD campaigned hard for 5 years, lobbying parliament and looking for land. Finally, in 1973 the government agreed to a pilot project.
A piece of derelict land on Sanford Street, between the two railway lines, was identified as a potential site. Lewisham Council agreed to hand over the land on condition that no families were housed on the former industrial site.
SCD leapt into action: it registered Sanford Co-operative Dwellings as its own entity, got building plans drawn up and, even though the council was dilly-dallying with the lease, instructed the builders to start building.
SCD put out a press release, announcing that they were building the first purpose-designed co-op scheme for the young and mobile. Thanks to the media pressure, within days, Lewisham gave SCD the lease they needed. The Housing Corporation and another organisation provided the finance. It was during this phase that the BBC made a documentary film about the project called More Than a Place to Live (see bottom for video links).
Sanford opened in October 1974 and in 1975 SCD transferred collective ownership of the buildings to the members.
Sanford Housing Co-op held its first general meeting at Lewisham town hall, and it was packed. Sanford had made a surplus, because its members had supplied many of the services and management functions over the year, thus saving the co-op money.
There was a huge discussion about what to do with the surplus, whether it should be divided between the members, or be donated to other groups. In the end, the general meeting voted for half of the surplus to go to further co-op education, and half to a local homeless charity.
It was at this moment that John saw the fruition of SCD's hard work: members who understood the value of democratic decision-making and self-organisation.
That spirit has continued and grown over the last 40 years, with John coming back to visit every 10 years or so. The transformation has been thrilling, from the retrofit of eco-efficient housing to the vegetable gardens. Walking through the gates and feeling the sense of community, John Hands has seen his vision become a reality.
This report was written by Sanford member James McDonald.
Listen to the speech by John Hands at the Sanford Open Day (7 September 2013):
More Than a Place to Live (BBC Documentary, 1974)
We also recommend a documentary about Sanford and other emerging co-operatives of the time.